Full Service local Market domination for your stone business
Granite Countertops Websites SEO SEM and more!
Marketing online is a very competitive business. We have been working with granite countertop fabricators for 5 years and we are going to put this extensive expereince to work for your business. We understand the stone business and we understand online marketing. Everything we do is based on generating the Highest ROI in the industry for your business.
Full Service local Market domination for your stone business
We are here to grow your countertop business:
Cost effective - Reputable - Marketing -Design - SEO- SEM - Countertop Consulting - Small Business Analyst - Promotion Development -DBA- Lead generators- Lead Managers - Sales Pipeline - Granite Marketing Specialist.
Website Design
You have a website - that's great but you do not have a website like this one. In the SEO world 3 main factors define your ranking in the SERP's (Search Engine Results Page)
Content of the page - needs to reflect the target terms and combination of terms
The website need to have a low bounce rate (low time on website and only 1 page view) How you combat this is by providing content that the visitor actually wants to see and answers the reasons they are looking for you in the first place
Represents your business and sales objectives to actually bring you the right customer.
Examples: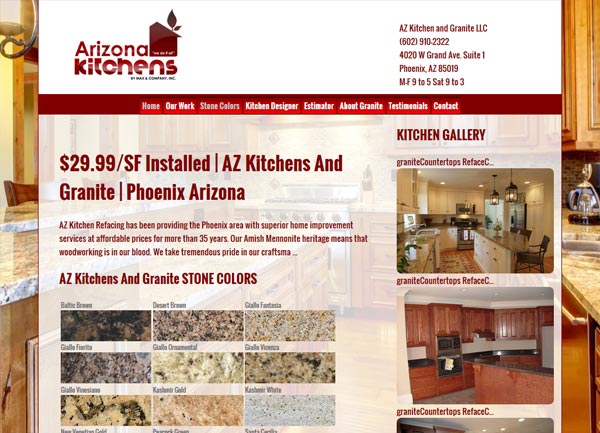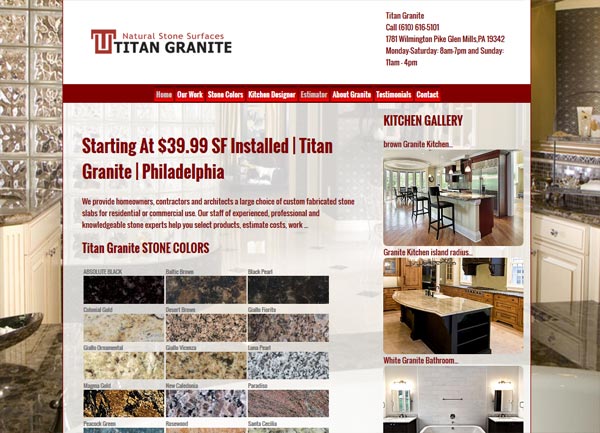 Granite Countertops SEO
Search Engine Optimization is an excersize in creating a website that will follow the guidelines in an effort to rank high for terms relateing to sales and marketing goals. Our websites do exactly this. We monitor and follow all the best practices to ensre that we are able to provide you with a qualuty website with great placement for target terms. See these results below:
PROOF!
Do a search on google, yahoo or bing for "granite countertops san Antonio"
You will find in the NON-PAID results -
sanantonio.granite-countertops.us
on page #1 on all 3!
More at the link below!
http://www.fireups.com/ad/granitewebsitedesign/granitewebsitedesignSEO-SEM.html
FireUps® is the granite and natural stone installers source for instant exposure to local and national markets with strategically Targeted Online Marketing Campaigns and proven Web exposure. FireUps provides local online marketing services for the small to medium sized granite surface installers with a focus on the proven results that will increase your bottom line. Our teams expertise in direct to consumer marketing is second to none, and we want to share how we can help ensure your business is found by the pro-active customer who is searching for counter tops made from granite, stone, marble or other stone surfaces. Just the niche product or services you provide!
FireUps® will put your counter top product, installation service and surface remodeling company on the virtual map and generate a buzz that you could never have imagined. We focus on maximizing your return on investment through a clear understanding of your business objectives and by translating your value proposition to your customers! If you want to do more counter top installations tomorrow,
partner with FireUps® TODAY! 603 617 3877